---
THE COCOA BEACH TROLLEY
---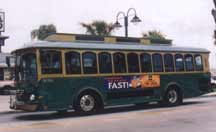 In 2001, Space Coast Area Transit (SCAT) introduced trolley service to Cocoa Beach. The trolleys are actually buses designed to look like trolleys. The service runs Monday through Saturday from 7:00am to 9:00pm and on Sunday from 8:00am to 5:00pm from Port Canaveral to 13th Street in Cocoa Beach. A ride on the trolley costs $1.25 with a special rate of .60 for seniors, veterans, disabled and students. There is no charge for children under 5 or for transfers to fixed route bus service. Please have the exact fare ready when riding a bus/trolley. Drivers are not equipped to make change. Bikes and surfboards are welcome.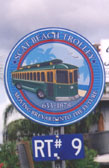 According to Rob Varley, Director of the Space Coast Office of Tourism, that rate structure ties in nicely with Cocoa Beach positioning itself as an affordable family vacation destination. "The trolley service is like having an additional inexpensive tourist attraction that helps solve some key transportation issues at the same time. It's a very exciting opportunity for both the tourists and residents of Cocoa Beach," stated Varley.

Space Coast Area Transit's fixed route service operates throughout the Space Coast to provide public transportation. Fixed routes operate on a set schedule at designated stops. 27 transit buses and provide extensive coverage throughout the cities within Brevard County as well as unincorporated areas. All transit buses are wheelchair lift equipped. They also accommodate bikes at no additional charge.

For general information or to order schedules by mail, call SCAT's bus information line at (321) 633-1878. SCAT is a service of the Brevard County Board of County Commissioners.